What is Information Communication Technology (ICT)?
Information Communication Technology can be defined as the combination of video, telecommunications and computer technologies. It can be seen in the use of computers designed for multimedia applications as well as the services and networks set up for it.
What is the role of ICT?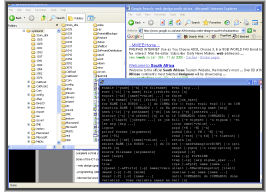 Information and communication technology (ICT) has a leading role in the way that information is distributed in South Africa and around the world. There is an enormous potential in the use of ICT to provide information, accessibility to resources, enhance learning and research sources. Developing a culture based in Information and Communication Technology (ICT) is important and plays a huge role in integrating information for everyone to access. The ICT industry involves students, researchers, teachers, businesses, information resources and much more.
ICT aids in teaching processes as well as obtaining information in an independent manner between the researcher and the outside world via communication and interaction.
How can we help?
As a business or company, it is essential for you to have ICT information available to researchers out in the world. ICT is a rapidly growing way of finding information, products and services around the world.
As an ICT Company, Intoweb Design focuses on Information and Communication Technology (ICT) solutions such as web development, IT Training and promotion on the Internet. By designing professional websites, programming these websites with databases filled with information, and marketing these websites online, Intoweb ensures that your company will be ICT compliant so that you will not fall behind in a rapidly changing age.
Some of the ICT solutions offered by Intoweb for private or company use includes:
web design (graphics, flash, animations)
programming (databases, php, asp, MySQL, Postgre SQL)
Internet Services (hosting, DNS administration, email accounts, bandwidth monitoring & client support)
Online Marketing (search engine optimisation)
Linux (web server installation & configuration)
eConsultancy (website analysis)
Lecture Based Training (training in web development and design subjects)
Contact us